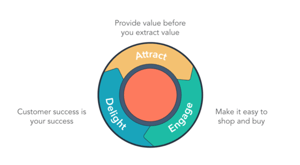 You might have noticed a change down Creative Media way: an entirely new service on our website and a new colleague in our team. It's all come about through a little soul-searching, a lot of caffeine and more than a bit of listening.

What goes on? And why? Well, after 20 years of web, brand and design success – after all, our awards shelf is growing and our tiny client turnover shrinking away – we heard our clients when they told us they needed help to take the next step with their new brand or website by making it perform online in a sales focused way.

So, our Inbound Marketing service was born and a tamed content writer found to run Creative Media's inbound wizardry. This offers our clients advanced content marketing strategy, tools and techniques with lead generation in mind. We've also become a HubSpot partner agency to give the option of a superb, all-in-one platform to supercharge their performance marketing investment.