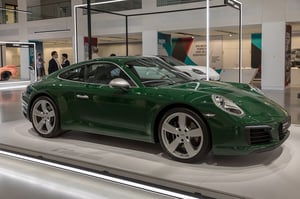 On a episode of Wheeler Dealers the other day (some of us work from home…it has its perks) the presenter described the marketing slogan for the latest version of the Porsche 911 as "do less, do it better".
This is sometimes translated, it seems, as 'less is more' but – in any case – we love it
Porsche have released various versions of the 911 while keeping the core of the car the same. Famously, they also release paired-down, simplified versions of the car while charging customers extra for the privilege.
Stay With Us: There is a Point
This isn't entirely an excuse for us to write about cars or watch Wheeler Dealers instead of working.
There are, in fact, three simple points linking Porsche's wonderfully clear ethos behind the 911 with the thinking behind great marketing (especially content marketing).
-Strategy…do less, do it better: It isn't complicated, focus on your business goal then design a simple strategy showing how you want your marketing to get you where you want to be.
And don't confuse tactics with strategy, if someone wants to sell you a swanky video go back to your strategy. If someone tells you XXX social post would be a 'cool thing to do'? Go back to your strategy. Making sure the thinking behind that document is clear, focussed and razor-sharp means this back-checking will be easy to do.
-Tactics…do less, do it better: Take a walk in your customer's shoes. How? Where do they discover your business or product, what is their next step and how does the content you use help them along this path?
Match this to your strategy and add some technical/ content know-how for a 'less is more' approach to your tactics.
-Message…do less, do it better: If you know who you are talking to, what stage of the buyer's journey they have reached and how you plan to move them closer to a sale then the theme of simple, appropriate messages can continue.
No More Footering
Yes, there are names for the theories and methodology briefly mentioned here. But let's keep it simple: if you want to take a 'less is more' approach to marketing your business online find someone who can answer these questions in a clear, results-focused way.
Anything else is just footering (AKA 'tinkering') with over-complicated, reactive tactics where strategy should be setting your route head.
Questions? Just ask!